Description
The last piece from the January 2019 collection and one of my most lucky / fortunate burns yet.
10,000 volts into 18mm hardwood ply, finished with a dreamy blue dye (not stain) and a very light coating of clear lacquer.
This really is a hypnotically dreamy piece – I find myself staring into it for ages and, like most of my Lichtenbergs, always seem to see something new, something that I'm certain wasn't there last time.
This piece measures 28″ (W) x 9″ (H) and apart from as stated above, has no other varnish or finish.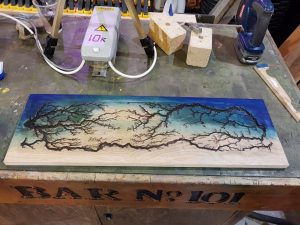 Video – The Making of Beauty's Kingdom