Description
A piece from 2016 which I'm selling to make room in the LOOvre Gallery.
This was amongst my first experiments with forcing a shape.  I call it 'tree', but others have thought it has certain leaf like qualities.
The blue photoluminescent (glow in the dark) resin really brings this piece to life.  It is best hung where it will receive lots of sunlight, which it will return after dark.
Size: 32″ x 32″

After being left in a dark room for a day or two.


After being left in the sun for 20 minutes!

The initial burn looked a little messy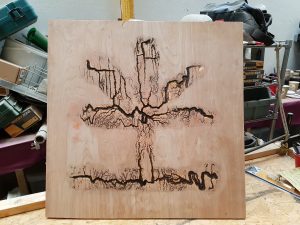 But cleaned up very well